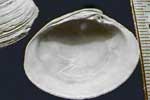 Click for 500px image


Click for 500px image


Click for 500px image


Click for 500px image


Click for 500px image


Click for 500px image


Click for 500px image
Sure looks like a northern quahog (Mercenaria mercenaria) to me.
Terri K. Hathaway
Marine Education Specialist
North Carolina Sea Grant
http://www.ncseagrant.org/
Bivalves
Clam-Shaped Venus Clams (
Veneridae
)
Northern Quahog
(hard-shelled clam)
Mercenaria mercenaria
(Linnaeus)
Description
: (4 1/2 inches) Heavy, rounded, somewhat inflated shell. Concentric ridges on surface smooth near the center and stronger near the lower edge. Elevated beak. Strong lateral and cardinal teeth on hinge. Lunule and pallial sinus.
Color
: Dull gray exterior, occasionally with purple zigzag markings. Dull gray interior, often with some purple near the pallial sinus.
Habitat
: Lives in sounds and mouths of estuaries near the ocean. Commonly found on sound and ocean beaches.
Range
: Canada to Texas.
Notes
: Also known as the littleneck clam, cherrystone and chowder clam. A large commercial fishery in North Carolina waters, it has potential for mariculture. Nearly all individuals are male the first year, then about half become females. It was a favorite food of early Native Americans, who made beads from this shell's purple edge and used them as money, called "wampum." A form of this species with purple zigzag markings once given the subspecies name
Mercenaria mercenaria notata
Say, but this clam is a naturally occuring genetic color form of the northern quahog. The purple zigzag patterns occurs in a number of other species in the family
Veneridae
. Specimens with these markings were once specifically bred by clam growers to identify their stock from monhatchery-bred clams. Clams with these markings may still occasionally be found.
Source:
Seashells of North Carolina
,
North Carolina Sea Grant
College Program.