Click for 500px image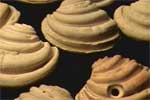 Click for 500px image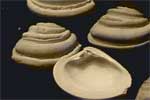 Click for 500px image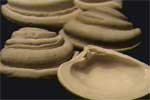 Click for 500px image


Click for 500px image


Click for 500px image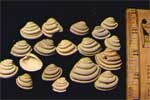 Click for 500px image
Sharon: I'm fairly certain this is the Imperial Venus Clam, but would like a confirmation just for the record.
Looks correct to me. They are beautiful -- I have never found those up here before! Nice find!
Terri K. Hathaway
Marine Education Specialist
North Carolina Sea Grant
http://www.ncseagrant.org/
Imperial Venus
Chione latilirata
(Conrad)
Description
: 1.5 inches, Rounded, triangular and inflated shell. Large, heavy concentric ridges rounded and often sharply shelved at the top. Ridges fragile on dry specimens. Bottom edge of ridges not serrated. Bottom edge of shell finely grooved. Cardinal and lateral teeth on hinge. Lunule and pallial sinus.
Color
: Tan exterior with lavender blotches and radial stripes.
Habitat
: Lives offshore, south of Cape Hatteras, in 60-to 120-foot depths. Occasionally found on ocean beaches.
Range
: North Carolina to Brazil.
Notes
: This species was frequently found among catches of the Atlantic calico scallop fishery.
Source:
Seashells of North Carolina
, by
North Carolina Sea Grant
College Program